A total anti-aging cream that thoroughly cares for complex skin aging by adding a super plant complex to the energy of a strong plant perennial. (High moisture) [Whitening/wrinkle improvement function]
1. Super plant complex that maximizes antioxidant efficacy. Contains super plant complex, an extract of Asian longevity trees (camphor, cedar, ginkgo), to maximize antioxidant efficacy.
2. Antioxidant, anti-aging, and super flavonoids make the skin firm. Super flavonoids containing the energy of strong plants and perennials fill tired skin with vitality and nutrition to make it elastic.
3. Soft and moist honey skein formula. The soft and moist formula is quickly absorbed into the skin and gives a smooth finish without stickiness.


Do you want to buy 100% genuine products? |
Shortcuts
슈퍼바이탈 에센셜 크림 리치
SUPER VITAL ESSENTIAL CREAM RICH
항산화 효능을 극대화하는 수퍼 플랜트 컴플렉스아시아 장수 나무 (녹나무, 삼나무, 은행나무) 잎 추출물인 슈퍼 플랜트 컴플렉스 함유로 항산화 효능을 극대화 시켜줍니다.
항산화 x 안티에이징,슈퍼 플라보노이드가 피부를 탄탄하게
강인한 식물, 만년송의 에너지가 담긴 슈퍼 플라보노이드가 지친 피부에 활력과 영양을 채워 탄력있는 피부로 가꿔 줍니다.
부드럽고 촉촉한 꿀타래 제형부드럽고 촉촉한 제형이 피부에 빠르게 흡수 되고
끈적임 없이 매끈하게 마무리됩니다.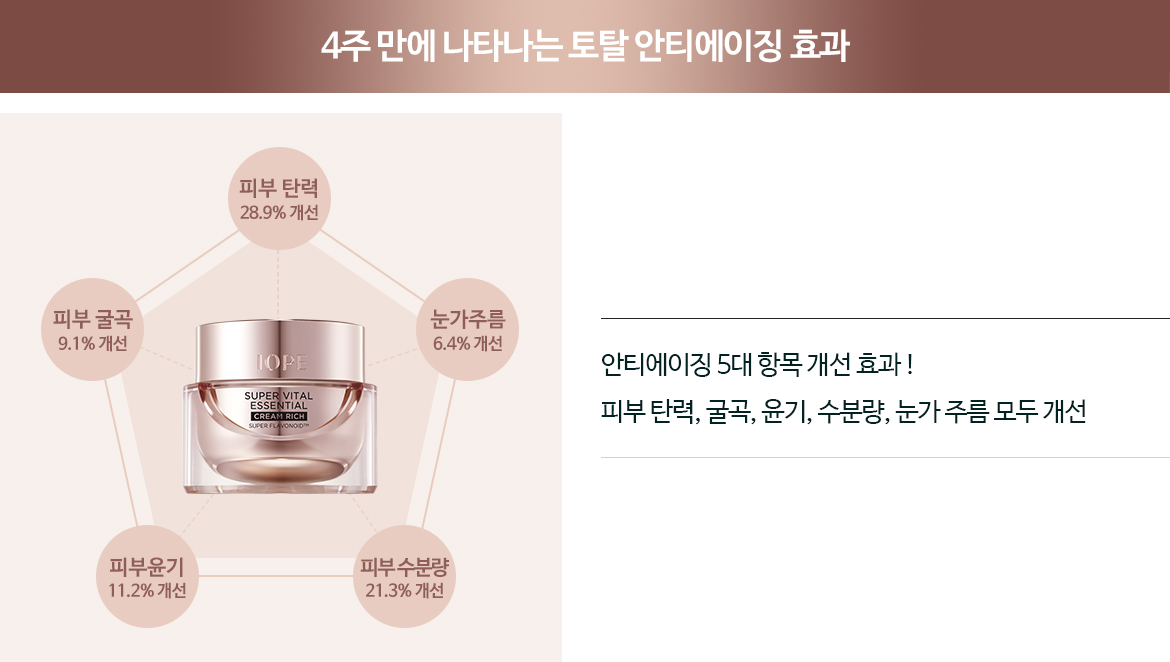 사용 8주 후, 피부 굴곡개선